If the best way to a man?s heart is through his stomach, then the best way to a woman?s heart is through cooking with her man. Cooking is one of the most ethereal, romantic and sensual things one can do, and as such attracts those kinds of people.
These people have a zest for life, a need to fulfill their cultural questions through taste; these people are passionate and interested in broadening their horizons. If this sounds like the kind of woman you want to meet then you should enroll in one of the many cooking classes and cooking schools in Bangkok.
Thai food is incredibly complex in flavors, but simple in its creation. A lot of Thai food resembles the romances formed there, fresh, bright, simple and sometimes spicy. You don?t have to know how to cook to enroll in these classes, but you should have an interest in the world of food.
Women love to learn new cuisines, many would say that it is in a woman?s constitution to learn how to make food that her family will enjoy, and so a lot of women find their way to cooking schools in Thailand to explore just those options.
These are some of the best women you?ll find because of their thirst for knowledge and love of flavors and culture. This is any man?s dream. Some of the best places to learn how to cook and also ignite your romantic side are the following:
Le Cordon Bleu Dusit Culinary School
This world-renowned center of French cuisine has opened a campus in Bangkok that has classes that focus on Thai food and Thai fusion. A lot of French influence still stands in Southeast Asia, in India, Vietnam, and beyond.
These flavors attract some of the most incredible women who are considering or already have a career in the hotel/restaurant industry. If you love to travel, this is a great way to find a traveling partner and also a great way to find someone who might want to live their lives passionately with great food and drink.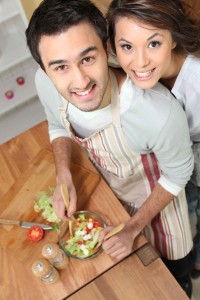 The Oriental Hotel
This luxury hotel conducts its own cooking classes that teach you all about indigenous animals, vegetables and how to prepare them. These women will be committed to learning but less concerned with having a serious hotel career as with le Cordon Bleu.
This kind of woman will generally be Westerners who love the food there and want to bring this experience back home with them.
BaiPai Thai Cooking School
This place is all about flavors and spices. They are less adamant about a plate looking like a piece of art as they are about understanding the art of using Thai spices properly.
The kinds of clientele they claim to attract are people who are livelier and less serious, who love to eat as much as they love to cook. Less strict and more learning about how to accent a dish, you will likely find women here that have a little more flair in their personality.
UFM Baking And Cooking School
Making an entre is one thing, but having the patience to meticulously measure ingredients to the gram for baking will lead you to the kind of women who don?t cut corners. Baking desserts also shows the side of someone that is indulgent, someone that has a need for sweetness in their lives. Take a trip over here and try your hand at making breads and finding some company to share it with.
Chiang Mai Thai Cookery School
A woman who has found her way out of Bangkok and into a cooking school in Chiang Mai definitely has a wandering spirit that is open to new experiences.
These classes are hands on and really show you how to prepare specific dishes, but it?s also in a beautiful and relaxing place that allows you to take a breath of fresh air and enjoy your free time afterwards. Go there and find her while figuring out how to make her favorite dishes.
Samui Institute Of Thai Culinary Arts
If you?ve made it to Koh Samui, you already have a love for all things beautiful that will come through in your dishes. The freshness here is all around you with the water and the tropical vibe that always seems to be new every morning.
This is a cooking school that draws people who are interested in taking a bit of the perfection of Koh Samui home. An excellent place to meat beach bunnies and start a chat.