Next week we put the spotlight onto another amazing Thai woman. Meet Jom.
In our featured article next week we'll help you to understand some of your Thai woman's confusing behavior in "Understanding Your Thai Lady's "Mysterious" Behavior – So You Can Be The Partner Of Her Dreams."
We'll also give you the lowdown on the best places to trek in Thailand in "A Complete Guide To Trekking In Thailand."
And look at how to cope with a relationship with a woman who doesn't speak English in "Tips For Dating A Non-English Speaker."
Newsletter #13 is going to be overflowing with some really important information, which will give you a huge advantage over other Western men looking for love in Thailand.
As always we will feature a new set of handy Thai phrases to help you make new acquaintances and communicate better with our Thai women.
Don't put your happiness on hold a moment longer. We look forward to helping you find love.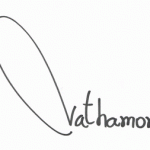 Nathamon